Branding yourself as Part of an Experienced team can Take you to Success
Posted by William Ribblett.
Dec 28, 2015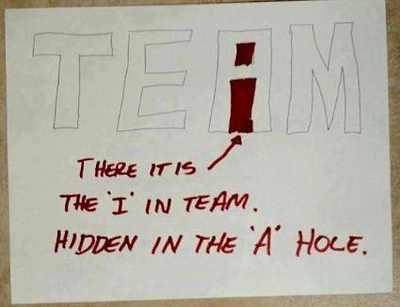 Think you can do online marketing yourself? Who are you kidding?
98 Percent of entrepreneours thought the same thing and Failed.
No one builds a successful online business themselves, so it is no disgrace to ask for and receive help from a team of experts.
So what does one look for in the search for the right team? Well, first, assess your skills and determine what you can add to any group that may be open to receiving your talents and what you can recieve to improve your skills.
Find the group you want to join who have skills you need as well as one in which you can contribute your skills.
Searching Facebook Groups can be a place to start. Determine your niche and type it into the FB search bar and you will find many groups to begin visiting to find your place to contribute.
Comment on a few posts and establish friendships so you can begin to build relationships.
Re-read your responses to other's posts and see what perspective you are adding. This is the beginning of your branding of yourself. Once you determine your "brand" start searching for that brand characteristic in Facebook groups and friend "like" people by reviewing their profiles. (You can click on the picture by a person's comment and it will take you to thier profile).
Once you have found how you fit into a group, you canbegin to plan how you can make money making a contribution.
There are a number of ways to make money online. One is to join a company or group who are making money and see if your brand fits that company and group. Once you find a company and/or group you feel comfortable relating to and one that you can make a contribution with your talents, make firends inside the group. Find out how others are making money inside the group and set your goals for what you want out of the company and group.
I examined one particular group, the One Link Family who had a fan page in Facebook. In looking at their fanpage
https://www.facebook.com/groups/OneLinkFamily/
I determined that this group had proof that money was being made by the members. After reading their testimonials, I was able to determine that these were people who could use my marketing talents and that I could benefit from talents they had, which I saw were my weaknesses. I quickly "friended" people who had talents I wanted to learn from and joined with them in other social media outlets online. Youtube, Linkden, Twitter, Stumbleupon, Google Puls and other groups they were a part of. In those groups I interacted and made more friends who I could find inside these groups and contributed my comments to their posts.
I found the One Link family had a new form of marketing that immediately appealed to me since I had little luck marketing using all the techniques I had learned in my 7 years. They all marketed by "Like"ing, "Comment"ing and "Share" ing One ad and
One Link
http://guaranteedsignupssystem.com
. I soon found that they built each team member's pay funnel as a group and every member benefited, not just the people at the top of a pyramid, as most online businesses were modeled.
Examining the site for
Guaranteed signups
I soon determined that this was exactly what I needed. It saved me money from what I was spending already by offering me tools that were better than what I was trying to use in my marketing and buying me quality advertizing that converted buyers into paid signups. It provided me with paid members who paid me commissions in a funnel 10 levels deep. I had never seen such a replicatable system in all my years. Ten levels would eventually net up to 59,046 paid signups.The icing on the cake was that these signups are quaranteed to be placed over time into my funnel.
Now my niche was healthy bidy and mind and Guaranteed Signups in Zukul could easily be downloaded into a Excell spreadsheet and loaded into my autoresponder for marketing in my niche blog where I share information on getting and staying healthy into old age.
Since I had been working online and getting nowhere, this was the answer to my prayers. 98% of the work done for me. All I had to do was my 2% promoting one link and Liking, commenting and sharing one ad that was written for me. What could be easier? This is how I will brand myself now. Contribute my talents to helping others who need my help promoting by
liking, commenting and sharing one link.
Email Millions - Click Here
---
---